Consumer Fraud Protection Resources
This page is designed to provide the Buyer, Seller, Real Estate Agent and other consumers tools and resources to better protect yourself from internet and wire fraud scams when buying or selling a home.
Investors Title Buyer & Seller Beware
Share This Information with Anybody and Everybody so You and They Will Be Protected!
American Land Title Association
Protect Your Money from Wire Fraud Schemes When Buying a Home
National Association of Realtors
Wire Fraud Alert For Buyers
FBI Recommends That Buyers Watch This Video
The Homeless Homebuyer - Public Service Announcement
North Carolina State Bar
Wire Fraud Alert on Fake Wiring Instruction Scam
Actual TV News Stories
These are actual television news stories from all over the country. It does not matter what state, city or county.
Anyone wiring money when buying a home needs to protect themselves.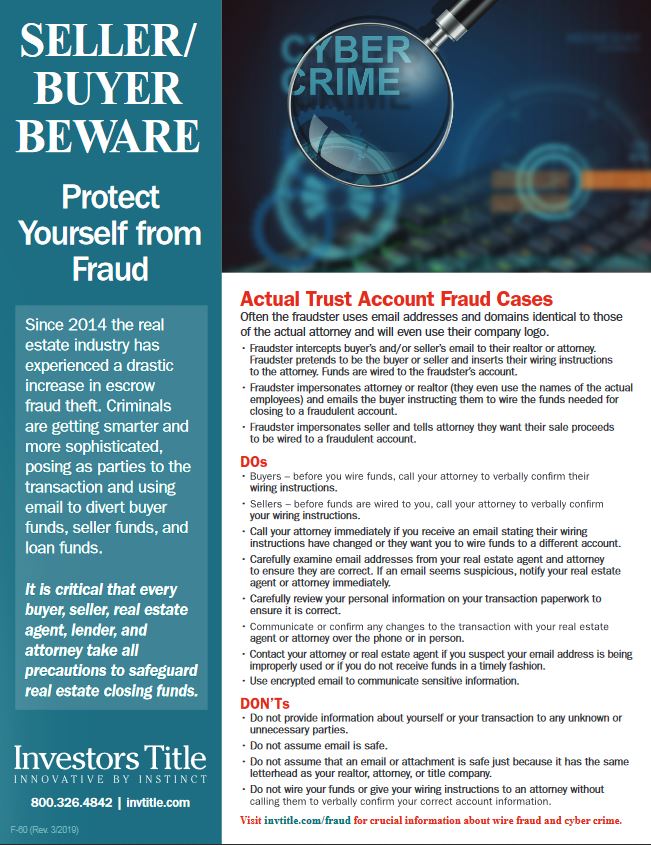 Click Here for Other Investors Title Wire Fraud Resources